Airbrushing can take your sugar cookies to the next level in just a few seconds, and it dries quickly so you can get them packaged and ready to go faster, let's learn how to Airbrush Valentine's Cookies.
A lot of people are overwhelmed and intimidated by using an airbrush in the kitchen, but there's no need to be. With a few simple tips and tricks you'll be decorating with an airbrush in no time and you'll find it expands your decorating options way more than you ever expected.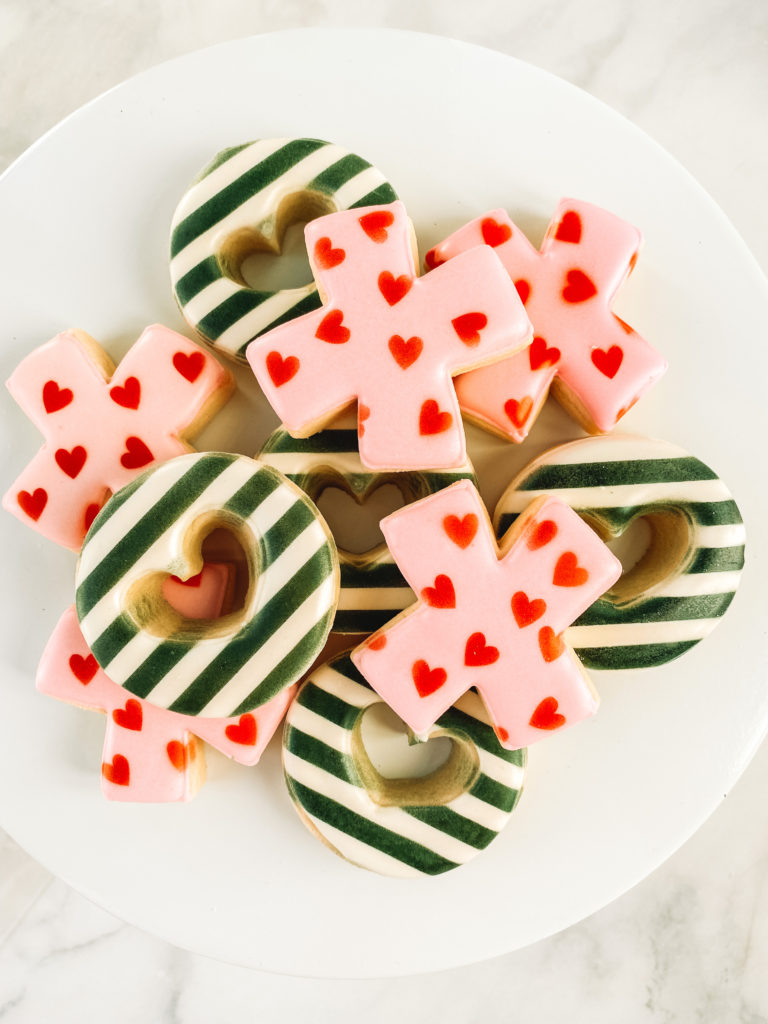 Check out the step-by-step video tutorial shared below to see how I use an airbrush to decorate sugar cookies
I show you how to decorate these adorable We Go Together mini cookies but also share the best way to package them. Check out the video tutorial for tips on how to make and package these cookies!
For these cookies, I used my exclusive sugar cookie recipe and royal icing recipe. The cookie recipe yielded about 35 small/mini cookies. I like a thicker cookie so I roll out my cookies to 3/8″ using my Cookie Countess Precision Rolling Pin. The thickness of your cookie will change the cookie yield. You can find the rolling pin here.
Icing Guide
This cookie set includes 6 icing colors using brown, white, red, and pink. I made a light brown, medium brown, and dark brown using Totally Brown Gel color from Cookie Countess.
Helpful Decorating Tips and Tricks
Cookie Timeline
I like to break up the decorating process over a few days. It works better for my stage of life to do a little each day. Here is a sample timeline to show how long each step takes.
DAY 1
Make and bake my cookies. I do not chill my dough so usually, this takes about 1 hour from start to finish. Mix royal icing, color, and prep all the icing bags. I like to color the day before because the colors will deepen over time.
DAY 2
Outline and Flood Cookies. Make sure to allow them to dry in front of a fan for 1-2 hours before adding details. Add final details like airbrushing, piping and stenciling.
Day 3
Always take pictures of your beautiful cookies. Make sure to allow 10-14 hours of drying time before packaging your cookies. I like to store mine on a baking pan with a lid overnight.
Tools included in this tutorial:
2 Food Gels: White, Pink
4 Icing bags
2 #2 PME tips
2 Couplers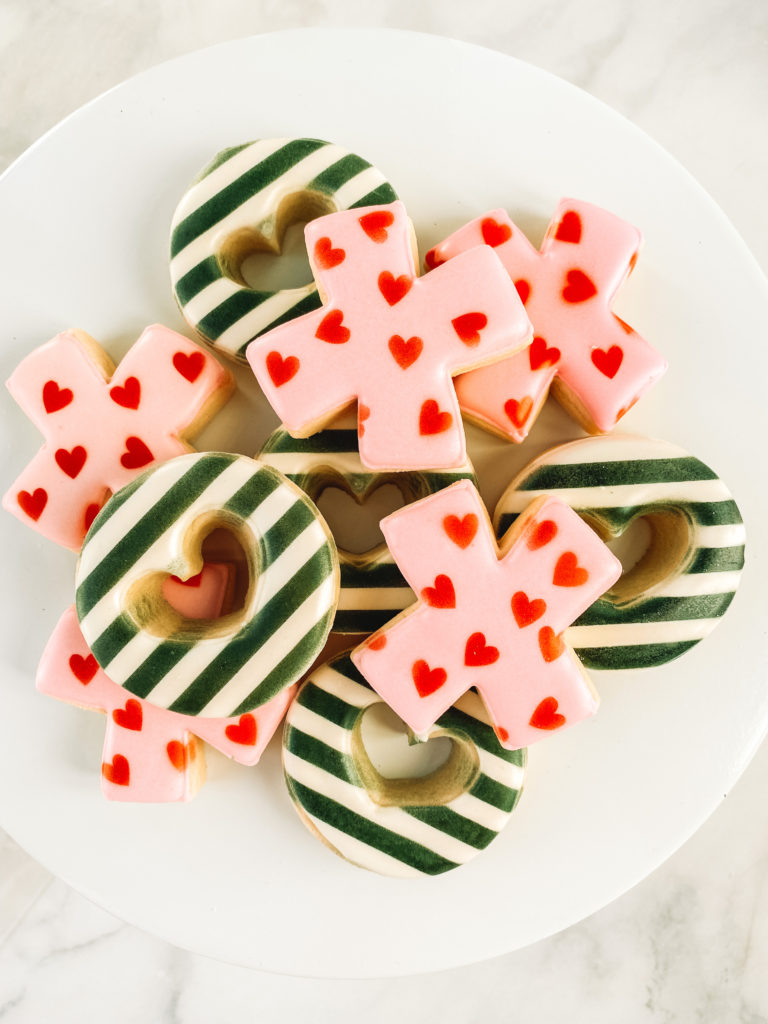 Now you know how easy it is to use an airbrush to decorate your sugar cookies and add more patterns, textures, and colors to your cookies quickly and easily. You can add words easily if writing on cookies is tough for you, or add fun patterns and designs in seconds instead of the longer times it takes to do them with royal icing. You can add dimension and depth to cookies to make them more realistic and add an even more professional touch to your sugar cookie designs.
Take your time to practice getting the flow of the airbrush just right and make a decent size batch of practice cookies to work on first, once you get the hang of it you'll be happy you finally decided to try the airbrushing techniques on sugar cookies. Now, grab your cookies and get your Valentine's Cookies done just in time to give them away!